I decided to learn something new today. It's already bigger than what's in the photo. This is the 3D Petal Granny Square. (I've linked to the video here.)
I purchased this yarn just because I liked the color. I don't usually do RHSS. It's rough. Though I've heard it softens a lot once it's washed. But the colors spoke to me and I had a coupon so it came home. Then I was back at the store and I saw just three lonely skeins of it on the shelf and decided the family should stay together. So, I had 1928 yards of a yarn I had no idea what to do with. That blows the year of yarning dangerously all to heck.
There was the thought it would make a great beanie – and it would. But then the 3D square popped up on the feed from my phone and I thought: 'Pretty square. Won't have to change colors. Let the yarn do the work.' Cue the video. Video was easy. Square looked fun. Could sell the afghan. Everybody wins. And here we are.
I also have a bandana on the needles. Haven't taken a photo yet. I am frogging the Hooded Turtleneck Cowl I was making. I didn't like it in the end. The problem could be I followed the pattern and you know that never ends well for me. This is part of what happens when I learn something new. One of the new things is I will change the pattern.
There are no plans to redo it right now. But should the urge hit me, I will definitely rework to my taste. The Bandana Cowl is a Purl Soho free pattern and will look pretty in Autumn I Love This Yarn stripes.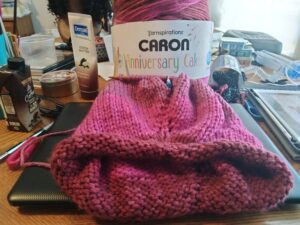 I also started Robin's poncho over. There isn't a needle long enough to hold all the stitches. It's being made in two pieces and will be joined at the seams and then the neck picked up.
I'm off to take a selfie and to get dinner in the oven. Today is Thursday and that's leftover night. I have a Bible Study at 7 so dinner is at 6 or so. Mr. Honey is having spaghetti and I am having leftovers from our date night last night from Famous Dave's.
Good night all around.