I needed a few hours to recover. Just a few hours after finishing the Lenny K Blanket scarf – crochet version.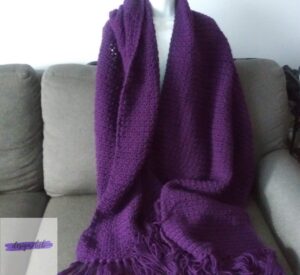 Here it is and it is gorgeous. You can find the item itself or the pattern (which includes both knit and crochet version) in the designbcb shop.
Last time I said I didn't know if I liked the knit or crochet version better. Well, for sheer looks, crochet version, but normally where crochet is faster than knitting, this ain't the case for this scarf. The knit version seemed faster. But the idea that crochet takes up more yarn? Yeah, that part is true. This takes up all of two skeins of Caron One Pound and most of the third skein. I have enough left over to do a hat or maybe a normal scarf. But I was in a panic until I found the remnants of the third skein hiding in my stash. I thought I was going to be short and there was none in stock or available for shipping.
The end result is a blanket scarf Lenny Kravitz would be proud of. It weighs more than 2 pounds. I know because I had to send it off to its owner. This was one of 7 projects that had to be shipped by the 19th. I started it well beforehand but even so, I needed half the morning the day it was due to go.
Want to have an idea of how much natural light flows into my studio? I took this photo with the lights off at about 8 in the morning. This room does interesting things with lighting at night as well. I am not even going to bother with figuring out why. I will accept, love and appreciate.