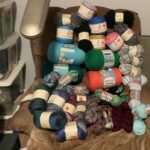 I know. Really, I know. But it couldn't be helped. We went on a road trip to Montgomery, AL to watch my nephew play baseball for the Chattanoga Lookouts.
It was the same time Hobby Lobby was having their clearance sale and if you know the stores in Chicago, you know the clearance wasn't going to last long. I was all content to pass it by until we arrived at our hotel in Madison, TN. There was a Hobby Lobby right down the street from the hotel. Still I resisted. I didn't need yarn – OK. I had just purchased stuff from HB and didn't need to go back.
So, we drove on to Montgomery (after a stop in Birmingham to pick up my brother and nephew.) And there, right across the street from our hotel in Plattville, AL. Hobby Lobby. I swear, I wasn't going to go but as it happened, I needed black yarn for one of the projects I brought with me and they were having their regular 30% off sale. So, over I went.
And there was a bunch of cotton on sale. And I am doing a bunch of stuff with cotton. I got the black yarn, some cotton yarn and some other stuff. My haul was less than $50.
But there was a slight emptiness. I left the hand dyed yarn behind. It's a three weight and I don't usually deal in that. But there a hat I want to make – for the longest time – that looks good in sock yarn or three weight. It's this classic right here. You know the hat.
We were set to leave Tuesday morning and Mr. Honey wanted to leave before check out time at 11:00. The store opened at 9 and I was gonna take some luggage down to the car while he was still sleeping and take that 3 minute ride. But he got up and I confessed what I wanted to do and he was good with it. We packed up got in the car and he drove me over.
I found the green on sale – which is great. I need it to go with the pink for the stocking cap I want to make. Found the hand dyed, which I knew I wasn't going to buy a lot of. I can get two beanies out of each skein. So seven skeins was enough. The haul was less than the first one. All told, I spent maybe $70. Not bad.
But yes, I know. Ton o'yarn. But I know what I want to use it for. The furry yarn for cuffs on hats and gloves. The beanies from the hand dyed and the anti-pill. Wash cloths from the cotton. See? There's a plan. Trust me.