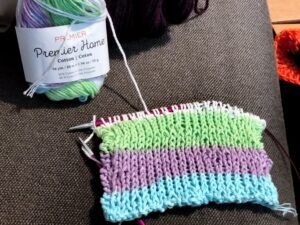 So, what's on the hook and needles? At the moment, I have one thing going. Double knit wash cloths. Dish cloths are still popular on Etsy. I have some in my shop. But these new ones are a little different.
They are going to be select your own color. The exising cloths are sold as a set but these will be one offered at a time and buyers can choose what color is available.
. These are double knit. Durable and soft for both skin and for household use.
As you can see, the yarn is Premier Home. It's 85% cotton and 15% polyester. I will do a yarn review and it will be generally a good one but this is quite splitty. Be that as it may, it's also very pretty and the double knit makes for a squishy cloth that will feel good in the hand even if it's just used on dishes.
Just one project going…for now. I have some design time on the books for tomorrow and I'm thinking of adapting a pattern for a bag into a cowl and then maybe do the bag and have a potential matching set. Thinking about it; it would look great as a cowl.