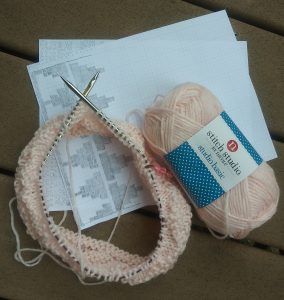 I am not from the artist. I like to say, with a great deal of truth, that I cannot draw a straight line with a ruler. I can stay between the lines when coloring but that took some discipline and I'm still not sure I would pass grade school art class.
It's funny then, when I use a chart to make a pattern. Charting isn't something I do on the regular. I crack myself up when I print out the graph paper and put a pen to it. That's another thing, I chart in pen. Like it's the New York Times Knitting section and doing it in pen makes me smarter. It's really because I don't have any pencils around and when I find one, it doesn't have a tip and I don't have a pencil sharpener because I didn't know I had pencils.
There is a part of me that wants to chart better. I know just enough to get by with what I'm knitting and I usually do it to make sure the idea I have in my head looks good on paper. I figure if it can look good with what I pass off as charting, then it will look pretty darned good when I get the needle and the yarn together. I would like to make neater charts. It would be more of a vanity project at this point as I would not inflict my charts on anyone – not even on a pattern I gave away for free – don't thank me. It's a mercy for all of us.
I am currently working on something, not the cowl in the pic; that's done. And I pulled out some graph paper because the design was taking on something I hadn't planned and I wanted to see how it would play out. I understand my chart but I don't understand if it looks the way I want it to. I am going to have to redo it in a neater manner so I can see if I have to frog it or if I can keep going.
I think I will try and do it neatly. If I succeed, I will happily show you the fruits of my labor. If not, I will use my messy chart to check my work and no one will be none the wiser. The artist world has nothing to fear from me. Salvador Dali maybe but I'm sure even his legacy is safe.