So, the work is coming along. OK, it's not going as quickly as I thought. In fact, it is going so slowly, I've had to add more work to motivate me to get stuff done. It is almost August, the store officially opens August 1 and there's 13 items there. Not enough to generate real interest. In truth, it's going to be a few days before I get something new in there.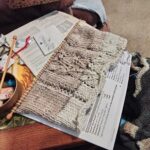 You remember this from a few posts back.
Now it looks like this. There's another square behind it and a third square on the needles. These squares are pinned to my KnitPicks blocking mats. It might seem like the work is steady since there is a third square but it's been a couple of weeks now and it hasn't moved much.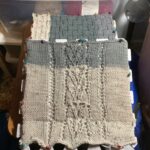 I started a another afghan, this time a ripple one, for a friend who is off to college. And I am designing some faith based journal/planner digital stickers. The stickers are part of the planned inventory. The afghans may be as well as a customizable custom order thing. I know I want to do afghans again. While I like Caron Big Cakes, this color is kind of muddy and I am thinking to use some solid cream colors blocks to brighten it up a bit.
It's probably a good thing I have until October. Lucas leaves in August. We are giving him a send off at church at the end of the month so that one has to be done in a few weeks. Didn't take a photo of it. Not much to see anyway. But I will do an in progress shot and show it for the next time.
In the meantime, I've redone my budget. Let's just say it's so tight, I can't afford to look at anything let alone buy it. I have to figure out how to get the income in.