And just like that, I find myself back in order mode. I got two orders in today for crochet slouchy beanies. I had the yarn for one and not for the other so Mr. Honey had to drive over to JoAnn to pick it up for me. (Because we are down to one car – I told him it wouldn't work. I don't think he's going to want to pick up my supplies for me very often.)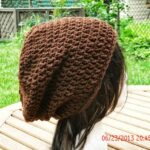 This is one of them. I like it. As of this writing, three more folk have this in their cart. If you want to join them, find the listing here.
Of course order mode comes when I have three items on the needles. Design and stock mode means having more than one thing going on. It is about to become four because I am going to have to put in some of the summer beanies in the shop along with the headband, basic beanie and the hooded scarf.
I did buy more than two dozen skeins of cotton yarn. I had some in the stash already and it should be used for something. What's one more thing to add to the pile? I will be in order mode for just a couple of days – unless this summer beanie begins to take off. That would something to hope for.
Cotton yarn is going to be my friend for the next few days. I am feeling hopeful and I want to strike while the iron may be warming up. A few summer sales is the goal. Just like that I would be a four season shop!