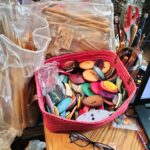 This is the Button Legacy. A local artist passed and her sister held a three weekend craft estate sale. Crafting material filled the basement. I saw these buttons on the Facebook page and knew I had to have them (including the basket.) I also knew she was a knitter. There was a ton of yarn and I managed to leave all of it there. There were some circular needles but I was fascinated with the wood needles.
But those buttons. It was the buttons that touched me. I love buttons. At another estate sale years ago, I purchased a huge box of buttons. I have used some but I have about 95% of them left and there are hundreds. There's a fair amount in this basket as well. These buttons are more artistic than the others. I've already used one.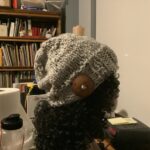 I recently purchased some Wool Ease and this is one of few times I've used yarn as soon as it arrives in the house without needing it for an order.
The button legacy will have chunky hats and scarves and this is a simple ribbed brim beanie. I really enjoyed it. It was quick and the tweedy look of the yarn is classic, modern and works well. Almost any of the buttons would have worked. There were lighter browns and oranges. I mean, just look in the basket. I'm looking forward to making more hats and the cowls and scarves that will have Parv's buttons on them. I look forward to using the big needles she has. They are handmade birch needles. The smallest may be a size 9.
The hat will go in the shop. Which is semi opened. It has a couple of items in it and this will be added to the list along with a few other hats I did for orders, discovered I really liked and want to add them. This is a blessing that is coming together right before my eyes and I am grateful for the part this beloved artisan has played in it.