Chicago is the place where God tests the weather.
Last week in my beloved city we had 80 degrees, 70 degrees, 30 degrees with snow on the ground and a frost advisory. All in the same week. An angel comes up to God and says, "I have an idea for a new cloud formation." God says, "Fly it over Chicago." I'm sure that's how the conversation goes.
It was cold in the yarn room and instead of turning on my heater, I opened the window. Who knew that would make it warmer? But it did. The downside is we live on a busy street and every place across the street is a business and we're less than a mile from the railroad crossing. So there's noise. On this side of the street are residences; a mixture of apartments and condos with houses. Lots of people with lots of dogs. (There's an animal hospital two doors down.) Noise of all kinds. We also live street level. I've walked by when the shades were up. Can see straight through.
But it's love. It's a crazy kind of love But love it is. And through it all – there was knitting.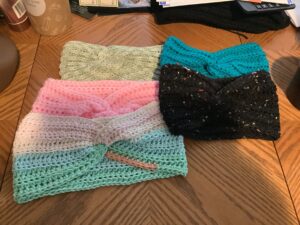 The headbands are here. Some of them have made it into the shop. There are more to come. More to be created and more that are created and need to be listed. The cool thing is I finally put them up!
I also added a new pattern to my Ravelry page. And, of course, the stickers in Abbey and Lincoln. I am also working on a new blanket for the Go Imagine shop. In case you missed it, I added something to the yarn review page. More to come with that along with a new page on hooks and needle reviews.
Hey, I'm warming up with the weather. Hopefully, my heat spell will last longer!