You can see what I made in January. Seems a little heavy on the Hooded Scarf.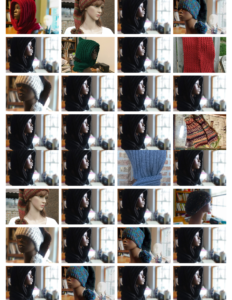 What can you do? The heart wants what the heart wants.
All in all, 41 items made and 50 balls of yarn used. Three balls of yarn came and stayed so it is a net total of 47 skeins of yarn gone from the massive stash.
I have photos of the great yarn sort but I will save those for another time. Suffice it to say, I like how the room looks. But by no means, is it a pretty kind of sort. It works for me because the floor is clear for when I work out and I have access to the domesticated yarn in the closet. I pulled a bin from the closet to start building the items for 2023. You can find the video of what is in the bin on TikTok @designbcb1. I've started the double knit headband but I still have orders so that's not going as quickly as I'd like.
Each morning when I walk into my space, it feels good because it isn't cluttered and the floor space is cleared. Also the work table is cleared enough for me to take photos. A great way to start the day. A great way to start February. Already have several items made.
I feel good about the coming year.