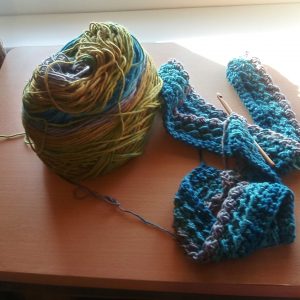 Sometimes stash diving is a good thing. I have almost three skeins of this Caron Big Cake in Pistachio Macron and was wondering what to do with it. I've made a long scarf with it and that's about it.
I started the family afghan for the giveaway but I wasn't liking how it was looking. I was using a solid color and I thought it would look better in a stripe or a variegated yarn. I was thinking of buying some when I realized I had to have something in the stash. I saw it when I was looking for something else. Perfect.
There should be enough to make a nice sized blanket. Each cake has 600+ yards and I have two and a half. It might make it to lapghan size; which is fine.
My December yarn haul is almost complete. I am contemplating some cakes from Paintbox because they sent a nice 20% off coupon and I can get a nice 5 ball sample for less than $25. So tempting. I know I don't need it…but still.
We're headed out to the movies for our annual New Year's Eve celebration. See a movie that starts in the old year and ends in the new. I have a dozen orders to get out. And some new ideas I want to get to.
Hope this new year is all you need it to be!