No one wants to be around when they're making sausage. Just give us the plate, thank you very much. Yet, the sausage must be made. That includes knit sausage. There is a process that happens before something shows up in the shop. With the new shop, I have forgotten it takes a whole lot of behind the scenes work. But it all starts with making…….something.
The first thing is to decide what to make or decide what yarn you want to use. Sometimes I start with the item I want to make and sometimes I'm itching to get my hands on a particular yarn. Those are always the first two steps and that means I have to raid my yarn stash.
Let's be clear: I do not have one of those fancy, staged yarn rooms. I believe they are real (kinda) but I don't have the mindset to keep it in order. This room is a real life working studio/office. Stuff gets everywhere. I have time carved out in my schedule to spend around 10 minutes almost every morning just for clean up. Keeps it manageable. Despite what the photo might suggest.
Once the project is decided and the yarn is pulled. I decide whether to use a pattern or make it up. For the project I'm showing, it was a little of both. There were two written patterns and I still improvised.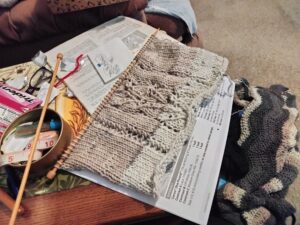 This afghan took a lot of work; more than what is usual for an afghan. That's because it's made in blocks. There were 20 blocks to this afghan.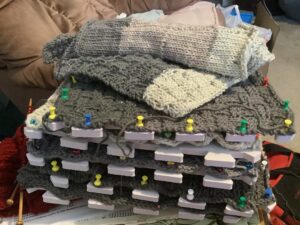 After they were made, they went on the blocking boards. I needed them to be as exact as possible. Pinning them to the board and then lightly steaming them, gave me the size I needed.
I sewed the blocks together to form four strips of five blocks and crocheted the blocks together for a little texture. And then about eight weeks later…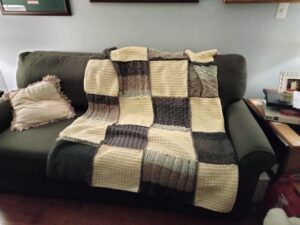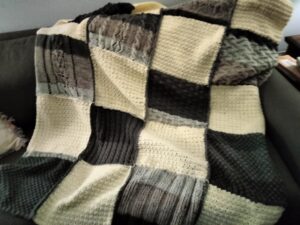 Some pretty beautiful sausage.