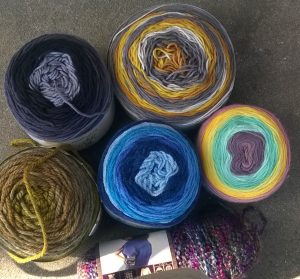 I found out about Campo Alpaca when doing my regular blog thing. My blog thing is to go to Google, put the topic of my blog post – in this case, yarn – into the search bar and ride the results to the end of the internet then start scrolling up to see what I can find.
I thought I would be writing about alpaca yarn. I was going to say the closest I've gotten to alpaca was using Lion Brand Touch of Alpaca and I liked it well enough and really needed to do a yarn review on it.
Instead, I found a social impact company named Campo Alpaca.
The company was found by Katie Lorenz.
FYI:The photo is a pic of my yarn; not their yarn. They don't sell yarn. Pity.
A young woman starting a clothing company is impressive. The ethics that are oxygen to that company is an added bonus pleasure.
She is young (anything under 37 is young to me) and a proud U of W graduate. Mr. Honey has relatives in Wisconsin – they seem to be proud of just about everything. There is good reason to be proud. Katie believes a business should do good in the world her business is built on fairness to workers and leaving things better than she found them.
Hop on over to the website or her Instagram page and check it out. You may even pick up a thing or two for the Wisconsinite you know and love. I'll get to that yarn review.