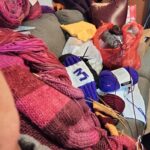 Thought I would give you a little peek behind the curtain. See that? That's what I have going on at the moment. Almost. There are three projects missing. This is what's going on right now in Knitsville. Finally finished the front (or back) of the poncho. Almost done with the 2nd of 3 golf club covers. There are also two hats in there. And a bag of yarn I'm not using.
So what's missing? An afghan. A new scarf I'm designing and a bandana from Purl Soho.
There is busyness in the business. These are good times.
In the other news, I have taken some more selfies and I guess they will be coming in other posts. As of today, I am -58lbs. 56 days and 58 lbs. Not bad at all. I can take averaging more than a lb a day. I can take 1/2 pound a day so I'm not blocking the blessings by wishing for something different. But enough of that. Back to knitting.
I am having the urge to buy yarn. When I don't need it. When the yarn I want to buy is sitting in the closet and I think there's some in free range. I am on the lookout for some chunky yarn and since I can't get the anniversary cakes anymore, I'm thinking Brett Marble Chunky. I think I bought some the last year or so. The fact I can't remember should tell me something. But what it seems to say is I should get some because I only have one skein of the colors I bought that's sitting in the closet with the domesticated yarn. Then I look on the Premier yarn site and they have chunky galore and I think I will be buy from there. I probably will buy from there. They have solids, tweeds and other chunky goodness.
Heaven help me.