I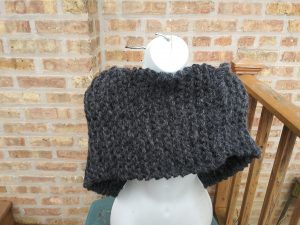 admit, I am late to hop on the Outlander train. Hadn't heard about it; hadn't seen it. The first thing that brought it to my attention was, of course, The Claire Cowl. Then all the different knit accessories.
Then the controversy. You know. The hullabaloo about whether the knits were authentic for the time. Imagine, there are people debating whether something is authentic in a show where the lead time travels across centuries. Oh, the irony.
In any case, this is a very simple but impacting knit for the beginner who wants to make garter stitch more interesting or the experienced knitter who wants to knock something fabulous out the park in short order.
I didn't bother looking at the patterns because it is a pretty simple knit up. So I just made my own. It's right here and you can download it free. Claire Cowl
If you aren't able to download it. Here are the instructions:
The Claire Cowl
Yarn: Buttercream Luxe Craft Alpaca Solid
2 skeins in Night
Needles: Size 19 straights
Size L crochet hook to join ends
Cowl is worked with two strands of yarn held together
Cast on 18-20 stitches
Knit every row until desired length
Cast off
There are several says to join the ends of the scarf to form a cowl. You can take a tapestry needle and see the ends together.
You can take a size L crochet hook, or whatever size you chose that will hold the yarn, and crochet the ends together through the front loops only.
You can do a version of a 3 needle bind off by not casting off immediately. Instead, put the working needle through the first stitch in the needle and through the first stitch in the other end, knit them together, repeat with the next stitches and then bind off.
After binding off, weave in ends.
It's just that simple. You can modify it by using a single strand of chunky or super chunky – you will still get a stunning piece when you double it. You can make it longer or wider. Just add stitches and keep knitting.