These are the cables I subscribe to. I gave up cable television years ago because it was very expensive for very little in return. But these cables are very reliable and, technically, they aren't cables. I did the pattern for my Faux Cable Beanie. These twists are fun to make and I love them in the different colors I've knit them in.
This is Yarn Bee Sugarwheel by Hobby Lobby. I love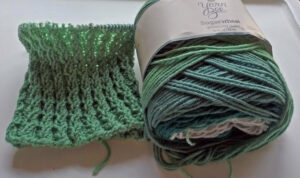 the color and I love the yarn but I will be using up what's in my stock and not buying any more. I understand those who will still support the corporation, I just won't be one of them. But I love this color. I think I am going to be using Ice Yarn Cake Blues as a substitute. I haven't used them but I do like the Ice Yarns I do have so I'm having faith.
I did do them in two other colors, each one from Caron Big Cakes: Blueberry Torte and Cherry Compote. Look at that texture. They are loftier than a 'real' cable. This twist is made with just two stitches. They almost jump off the hat!
They also hold up to the color and enhances the changes. I don't what Caron has in mind for new colors for Big Cakes and I hope they aren't discontinuing them because not only are they a great bargain at $9.99 for 600 yards, but they are also vibrant and lush colors that are fun to make cables with – even the fauz kind.