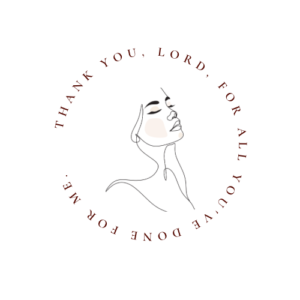 Thank You, Lord is the new digital sticker set now available at Abbey and Lincoln.
It was certainly fun working on them. The design ideas usually came when I was working on something else or during my faith hour. I would pause what I was doing, open Canva and get to designing. I would then use that sticker in my journal. Very nice to use something I've created. It took me a while to do that. It's only been a few years since I started wearing the hats I knit. Don't know why there was that disconnect between my cold head and the myriad of hats I have stored away. Might be the business person in me thinking they were better sold.
I also started using these. Let me tell you; these things are great! I had no idea how well those scrubbies worked. They are now a staple in my very own kitchen and I have them in my studio (of course I do) but I mean as a tool! I am in love with this particular one. I used it to clean my Corningware bake dish after I made an egg, sausage and veggie bake. Took just a little over a minute to make that thing look good!
I don't know what it says that I get excited about cleaning a dish. I don't think even my mother ever had that feeling.
There are orders to be filled. I just finished a pair of fingerless mitts. There are knitted sleeves, a snake and a stocking cap waiting to be created and dispatched. So I am on my way!
I do thank the Lord for all he's done for me and continues to do. May the Lord bless you and keep you as well.