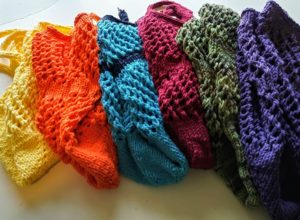 I think I want to strike while the needles are hot! (or the hooks, the hooks can be hot, too.) All that is to say, I am thinking of starting up the in person knitting group again with the idea we would create things to sell at a craft show through the church.
It's how it all started way back in the day. I started a knitting group with a friend and we knit so much stuff, we had to sell it. It was a big success and then we left the church,. The sale changed and by the time I got back to the church, it was all but over.
But now, with the resurgence of crochet; it seems like a great time to get back in the groove. Might be time for a holiday sale. The vendors keep 80% and the church gets 20%. If we can pair it with a luncheon or bake sale, all the better.
There are things that would sell at craft shows and I think we should make them. I need to feel out some folks at church first before I start trying to pull in knitters, crocheters and other craft folk to join up and be willing to have their stuff sold.
We need to come up with fundraising ideas that don't take a big hit of the funds before we even start. Methodists like to meet and eat and we also like to create so this seems like something that would be good for us across the entire board.
As I contemplate this and look at the grocery bags in the photos, I realize I miss making them. Some have sold and the pattern is a bestseller. These would be on my list to make for a holiday sales bazaar. This is worth looking into.