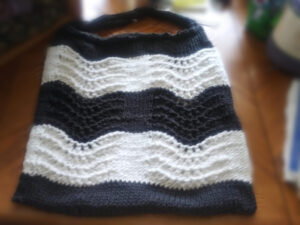 Sometimes when I design something, I get a twofer – an item to sell and a pattern to make it. On hooks and needles this go around is a twofer. The Bae Bag. Both the item and the pattern have been in the shop for a bit and I really don't know why it's not selling off the shelves.
It's a pretty straight forward knit. A feather and fan stitch that can knit up fairly quickly.
If you want to by one ready made go here. Wanna make it yourself, go here.
The bag is made from cotton – though it can be made of another fiber. It can also be lined and the handles changed to make it more of a purse than a grocery or farmer's market tote. I believe I used Big Twist cotton. There's a review.
This would also make a nice project bag. It can hold an insane amount of yarn and the pattern or pattern book. It looks smallish but it has a great deal of stretch. An afghan project would fit with no problems. You might want to make sure the needles and hooks are secure. There are openungs in the pattern and a loose hook or needle might be able to slip through.
If you're looking to make useful gifts or you want a fun easy knit for yourself. The Bae bag is just the thing.