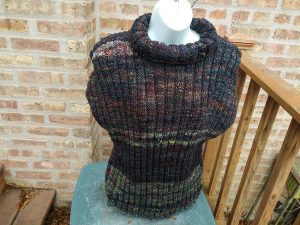 For a moment I didn't know what I was going to do with myself. It is finished. We were out last night on our date night. Which was later than usual because Mr. Honey volunteers the second Thursday of each month and we eat afterwards. I told him I didn't know what to do with my mornings when I remembered his family get together is in January. For the past five years, I've made an afghan to give away. Everyone's name goes into some kind of receptacle and one name gets pulled out. You can't win it two years in a row.
I have not yet started the afghan – I usually have one lying around but not this year. So, one will have to be made fresh. I was fretting about which blanket to make when my Google feed showed a really lovely one. Which I did not bother to look at right at that moment. I would have to scour Google to find it and I did on the YouTube. It's here in case you want to know what it is. It's a simple two row repeat. Which means I only made minor adjustments. I just don't know how to leave well enough alone.
First, it's sized for a baby blanket and I want something bigger.So I increased the chain. Second, I am almost always wary of just jumping into pattern rows so I like to make a base row. So while the pattern says one thing, I made a row of single crochet just to make myself feel better. The row also serves another purpose. I am using one skein of Caron One Pound Century in Golden Yellow. I remember when I bought it years ago. I got two of them. I know where one is. I don't think I have the other one. I have approx. 800 yards to make this work. The base row is so I don't have to make the larger edge she worked into her blanket. One row of single crochet, then sc in the first and last two stitches, should give me enough of an edge.
It is not lost on me that I am doing a somewhat mindless crochet project, albeit an important one, right after doing a sweater that caused ingrown hairs in my brain. My breathing is somewhat normal. Though I am using a Tunisian afghan crochet hook to make it. Hey, it was was the only one available. Heaven forbid I go downstairs, get a hook and come back up.
I am expecting a new laptop to arrive today. I had to order a new one because the b on this one takes forever to type. It is worn out. In fact, I have a line of b's sitting here in a row and I go get one when I need one so I can rock the flow. It didn't occur to me to just make a few then copy and paste as needed. Then again, if FedEx holds true, this is the only time today I will need to worry about it. Though I will hold on to them because this can be the backup laptop and I will need them.
bbbbbbbbbbbbbbbbbbbbbbb bbbbbbb BBBBBBBBBBBB Might as well leave them here. Just in case.