January was a great month and I didn't see that coming. I missed my revenue objective by $6 last year and it was a not great year though it was a great month. January hit and more than an order a day came with it! I am so thankful and grateful and it gave me a taste of what I would like to happen year round.
I also ordered a huge amount of cotton yarn because I have an idea of spring and summer items I want to make. I think I have finished the yarn buying for the moment – my looking at yarn websites notwithstanding – and I want to go on a yarn reduction diet. Unless I need it for an order, I am going to work from my stash.
The last post saw me making a Lenny Kravitz blanket scarf.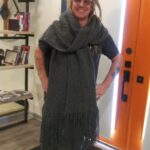 This is Steve wearing it. I dropped it off to him and he was more than willing to pose. As we speak, someone else ordered one and I am doing the crocheted version of it in eggplant. I have both patterns written but not formalized. That's something to work on.
Because January was something unexpected, I am going to be busy until mid-February. We will see if the good vibes continue into February. If it does, I'll be able to say I didn't see that coming, either.