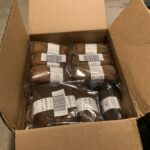 It's not what you think….OK, it is what you think but not why you think it. This is one of, I don't know, three packages of Lion Brand Skein Tones.
Michael's has them on sale for $5.99/pack of 3. I ended up with about 30 – 35 packs. If they are still on sale – or they haven't sold out – there may be more still coming. I will do a yarn review on them and there's no doubt they're being discontinued but if you're going to hoard them as I am, a review will still come in handy.
Bottom line is, I like this yarn a lot and having a bunch of it on hand in a season where neutrals are going to be trending is a smart business move. Y'all saw the blanket I was working on. I want to make another one of those and I want to make one of squares – my Bachelor blanket for the store on Goimagine. The yarn works up beautifully and feels great. Now you know how the yarn review is gonna go.
I tried my hand at yarn wall art and I was not displeased with the results. I will show them off a little later. There are things to improve on and I ordered some macrame cord in different colors to try my hand some more.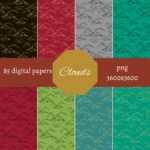 There's a new sticker pack at Abbey & Lincoln. The Clouds collection uses a specific color palette and three designs. There's more than 80 wallpapers to choose from. There's also a new digital design on the boards.
Creativity abounds! Good thing there's no option for running out of yarn or digital workspaces.
This just in:
I have been accepted at the Trinity TrollMarket Craft Fair. It's in October. Now it's on! I have to pray on what to make and to start. This is an expensive show and it's 30 miles from home. It needs to be worth it. I'm so excited!