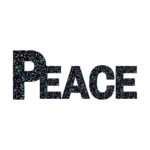 Let's do a June Giveaway!
Sometimes the world is just too peopley; the only thing to do is to lean into that and deal with it the best way possible. So, I thought I would bring some of the peace I need into the world.
If you click the image to the left, it will open an svg that you can use for your very own. No restrictions, you can even try and sell it if want. Place it on mugs, shirts or tote bags.
Today is Loving Day. The Supreme Court said the following about interracial marriage: 'The freedom to marry, or not marry, a person of another race resides with the individual, and cannot be infringed by the state.'
The last miscengenation law was removed from Alabama law in 2000. A mere 23 years ago. If you do not know the story of Mildred and Richard Loving, it is worth taking a look and even watching the interview with them.
There is current legislation in the works which would make interracial marriage illegal. It is in the same legislation banning same sex marriage. It's just not being talked about as loudly.
My sister and her husband have been married for 50 years. They lived in states with those laws on the books. I can't imagine one day waking up to find my marriage is no longer legal in all 50 states. God brought Mr. Honey and I together. Men with legislative power think they know better.
Hands off our marriages, please. In the meantime, celebrate love and enjoy using the SVG.