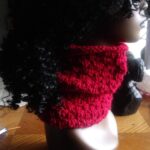 Lion Brand Touch of Alpaca has been around for some time and it's been hanging around my stash for more than a year. If I made the effort, I could go back and find the photo of it with its siblings when I brought them home. It will show up at one point or another when I talk about yarn. But when I was making the Aadi cowl (pictured) it was the yarn I pulled to make it with.
Normally, this sells for $7 at JoAnn but I would not be who I am if I paid that price. I went to JoAnn when they were having a supersale and I got it for half-price and I had a gift card – that's not just a sale, that's a steal. They should have arrested me going out the door.
One of the great things about super sales and having a gift card, is it leads me to try things I would otherwise leave on the shelf. Touch of Alpaca was one of those things. I don't normally look at yarns that have less than 250 yards per ball (unless I'm in a LYS or shopping at Webs.) My friend Ellen, who is purist, uses this a lot so it was somewhere in my consciousness when I saw it stting on the shelf practically begging me to get it.
What drew me, other than the price, was the color. It is richer than what the photo shows. It's available at JoAnn in 14 colors.
When I pulled it, I noticed the feel. This is one soft yarn. There's just enough alpaca (10% to 90% acrylic) to make a huge difference in softness. This has great feel.
It also has great definition. At this moment, the cowl is sitting on my work table a few feet away and a quick glance shows the nubbiness of the stitches without being close to it. I don't recall any splitting or knots. There's nothing bad to say about it.
I have a few more skeins floating around and I think I a close fitting beanie or some gloves would be good items to make to take advantage of the great feel.
Fiber Content

90% Acrylic / 10% Alpaca

Weight

4 – Medium

Brand

Lion Brand

Weight/Yardage

3.5 oz (100g) / 207yds (190m)

Knitting Gauge

19 sts x 26 r

Crochet Gauge

14 sc x 18 r