Impeccable Ombre Yarn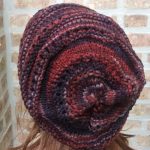 Impeccable Ombre Yarn is not new in Knitsville. I've used it for years.
It's the yarn used to make my bestselling hat. Impeccable is the house brand for Michael's so it can only be purchased there. It comes in solids as well as ombres. Interestingly, I don't use Impeccable yarn that often other than when making this hat. (This color, Earth, has been discontinued.) It's not the first yarn I think of when I need a certain color and don't have it.
The colors are lovely but it's not the softest of yarns. However, that's mostly for the solid colors. For the ombre yarns, I may have to look a little closer at them in the future.
Impeccable is 100% acrylic and as I said, it's not the softest yarn but it does knit up nicely in stitch definition and it's not difficult to manage. It can sometimes feel a little thin but it is definitely a 4 weight yarn.
When the earth color was discontinied, I chose another ombre to take it's place. I chose the color Toasted Almond and it's a nice color. There's also Stillness that would have done nicely and may make an appearance sooner or later.
It comes in 12 colors and costs about $5 a ball but if you can't find a Michael's coupon or catch it on sale, then you're not trying hard enough.
Overall, I like it for the one project I use it for and it does a really fine job on that but there's nothing really spectacular about it.
Weight: Medium (4)
Contents: 100% acrylic
Skein Weight: 3.5 oz. / 100 g
Yardage: 187 yd. / 171 m
Knitting Gauge:
18 sts – 24 rows = 4″ (10 cm)
Suggested Knitting Needle:
5 mm, US – 8
Suggested Crochet Hook:
5 mm, US – H/8