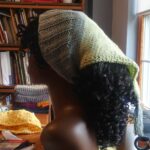 Caron Cotton Cakes
Weight: Medium (4)
Contents: 60% Cotton, 40% Acrylic
Skein Weight: 8.8 oz / 250 g
Yardage: 530 yd / 485 m
Knitting Gauge:
20 sts – 26 rows = 4″ (10 cm)
Crochet Gauge:
14 sc – 17 rows = 4″ (10 cm)
Suggested Knitting Needle:
4.5 mm, US – 7
Suggested Crochet Hook:
5 mm, US – H/8
You can find Caron Cotton Cakes at Michaels. They come in 10 delish colors and cost $9.99 before you apply that sales or coupon.
500+ yards for a cotton/acrylic blend worsted weight yarn? Yes, please. I can make three hats and probably a headband. For my business, that means $60 – $80 for the $10 investment – and I rarely pay full price.
The first thing I noticed is how pretty they are. The colors aren't solid, they are gently striped. It is color blocked but take a look at the photo and see how the color change doesn't hit you so much in the face. There isn't a color that isn't pretty. I wanted to buy more than I did but there will be another sale at some point.
It's acrylic and cotton at the same time. It's not the softest coming out of the ball and I don't block or prewash so I don't know if it softens up in the wash. However, it's not a rough knit. The acrylic helps keep the cotton in line. Cotton like to go off on its own and there is some work in keeping the tension so the stitches are uniform. The cotton gives some texture and depth to the acrylic so its just not a flat, one- dimensional piece.
Cotton and actylic both have drape on their own and if you add them together, the drape is a little stiff. This would be a spot where some blocking might be beneficial.
There is really good stitch definition which means you do have to watch the tension because stitches can go wonky. This is, again, where blocking can be your saving grace.
While it is a worsted weight, I would have no problem using Caron Cotton Cakes if I wanted something to be slightly bulky. It has some heft. This would make a great cowl or that halter top if I ever get around to it.
Overall, yeah I'm gonna get some more of this once my self imposed yarn diet is over.