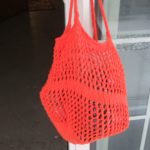 Village Yarn Craft Cotton
• 100% cotton.
• Solid 2.5 oz/71g/115 yd/105m ball. Multi 2 oz/56g/92 yd/84m ball.
• Machine wash. Imported.
• Crochet gauge, size H-8 (5.0mm) hook, 20 sc and 24 rows= 4″ (10cm).
• Knit gauge in st st, size 7 (4.5mm) needles: 20 sts and 24 rows = 4″ (10cm).
Available from : Herrschners.com $2.49
A few years back, some friends and I did an overnight trip to Stevens Point, WI to go to Herrschners. The yarn mecca of the Midwest. I brought back a nice yarn haul that included four cones of Village Yarn Craft Cotton – 2 in black and 2 in orange. It wasn't until this year I finally made something with it: this Market Bag and Beach Tote available in my shop.
The website mentions making pot holders, placemats and rugs with this yarn, it is soft enough to make something wearable. It certainly is perfect for the tote bag.
I used my Tovot bamboo circulars for this project and loved it. Bamboo can stick to certain yarns so I don't use them but these handled the yarn without a hitch and made the knit that much more fun.
It's the feel of the yarn that first pulls you in and then you notice how nice the stitching is and that it doesn't fail or droop when making the lace stitches. I didn't do a swatch (I don't swatch as a regular thing. Nothing against swatchers.) so I don't know how it would flow over an extended stockinette stitch but it held up fine when I put the strip of stockinette between the lace sections.
No snags or splitting There was no halo. The strand was consistent throughout
I have a lot of this yarn left and I'm thinking a summer slouchy would be nice: a crocheted and knit version. The first thing that hit my imagination was a non-cuffed 2×2 tight knit slouchy.
I will pick some more of this during one my biannual yarn runs. There are 51 colors to choose from. It's worth having around for the pleasure and performance.