I Love This Yarn – Tweed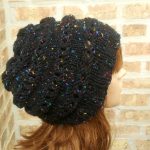 Contents: 97% Acrylic & 3% Viscose
Yarn Weight: 4 – Medium
Recommended Knitting Needles: 5mm (USA Size: 8 – UK Size: 6)
Knit Gauge: 18 stitches x 23 rows = 4″
Recommended Crochet Hook: 5.5mm (USA Size: I-9 – UK Size: 5)
Crochet Gauge: 12 single crochet x 15 rows = 4″
Skein Weight: 5 Ounces
Skein Yardage: 252 Yards
I Love This Yarn is one of Hobby Lobby brands and can be found only in Hobby Lobby stores unless you can get a hold of some mill ends. Every once in a while, I will find a bag of mill ends at JoAnn and these are often Hobby Lobby mill ends made from the place HB gets its yarns.
I Love This Yarn – Tweed is every bit as soft as the standard I Love This Yarn, which means it's plenty soft. The only pinch I have with it are the colors keep changing. The black, shown here, is no longer carried. I'm not sure of they are getting rid of it altogether or testing out new colors. They had a red tweed that I have one skein of but they no longer carry that, either. There are just 3 colors. Luckily, Ice Yarns have a very nice tweed that will be reviewed.
This fiber has a very nice feel and the flecks of color are really nice. There is some heft to the skein, possibly because of the color flecks that run throughout, but it makes it a more substantial yarn.
I've only knit with it and I used bamboo needles but I don't imagine there would be a problem using nickel plated or other metal needles.
The stitches are consistent and ample and the color flecks that run through it are so much fun without being clownish or comical. This would work up nicely as a ribbed scarf with or without fringe.
The cost is $5 for 252 yards. That's about 80 yards less than the regular I Love This Yarn. It's about 20 yards more than Ice Yarn but the cost of Ice Yarn is $1.75 – plus shipping.
This really is a nice yarn to use. I just wish the variety was better.