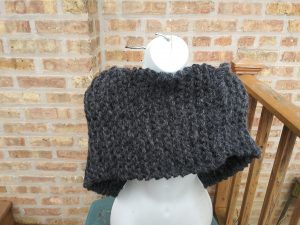 Buttercream Alpaca Solid
Two things converged: my wanting to knit with bulky yarns and my wanting to knit with more blends; either acrylic with wool or wool blends. The happy day came when I found this Buttercream on sale for $4 a ball from Joann.
I purchased three of the 17 colors available and used them all to make the cowl you see here. The Claire Cowlis inspired by Outlander. I just started watching the show and it makes my hands start knitting without anything in them. This is a knit rich show.
The yarn is extremely easy to work with. Knits up like a nice cloudy dream. It didn't split, moved easily on the plastic size 19 needles I used. I knit with two strands together and it still moved easily and didn't feel too bulky in my hands.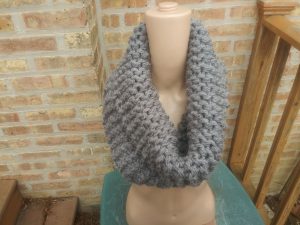 I don't usually block items but I would recommend it for this yarn. One, to get the fibers to relax but also because it sheds and it would be helpful to get those lose fibers out the way as soon as possible. That was the major flaw to this fiber; it sheds all over the place – especially the color called Night.
It is an incredibly soft yarn and knit on large needles with a double strand, it has a nice feel. I still have some left and will do something single stranded with it. If it is still around when my next yarn shopping date comes around, i will pick up some more of it.
Buttercream Alpaca Solid
Content: 80% Acrylic & 20% Alpaca
Weight Category: 6
Weight: 6 oz, 130 yds
Knit Gauge: 4 in = 9 stitches on size US 15 needles
Crochet Gauge: 4 in = 7 stitches on size N/P-15 hooks
Recommended Crochet Hook Size: N/P-15
Care: This yarn can be machine washed in cold water on a delicate setting, but should be laid flat dry