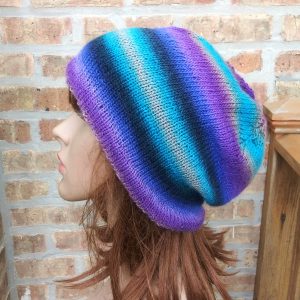 Willow Yarns Verbena
$6.00
• 75% superwash wool/25% nylon.
• Machine wash.
• 3.5 oz/100g/370yd.
• Knit size 5 (3.75mm) needles: 26 sts and 34 rows = 4″ (10.2cm).
• Crochet F-5 (3.75mm) hook: 23 sc and 28 rows = 4″ (10.2cm).
Willow Yarns is to Herrschners what Yarn Bee is to Hobby Lobby. It is their upscale brand. It has its own catalog and everything. I was drawn to Verbena because the six pack was a heck of a deal and I wanted to try something other than worsted weight.
The colors are gorgeous and I thought they would make a great basic beanie that would look good on a guy or a gal and the photo doesn't do the color justice.
As you can see, it is a self striping and the color changes and blends are pleasant. They are not harsh or forced. It flows from one color to the next and it makes sense. There is also some very nice stitch definition. It has a really good drape and feel. It isn't disappointing to knit with. It can be a little splitty but that's to be expected of a 3 weight wool blend.
I would be careful with the gauge. The nylon gives it some ease. I went down about 10% of what I would have normally cast on just to make sure it wasn't coming out too big. But I am not an overly tight knitter. You know yourself better. I won't bring myself to swatch but I am aware.
I knit using the KnitPicks Nickle plated circular and did not have a problem with slipping or sticking. I'm not sure I would use woods. I ordered it from Herrschners website.It comes in nine colors. There was enough left over from the skein to make something else.I am curious to crochet with it and would love to see a cowl with it. I would definitely buy it again – like when the entire store goes on sale in the early summer. It's a keeper.