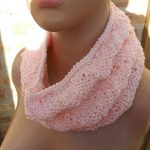 Stitch Studio Basic
3.5 oz./100 g
170 yds./155 m
100% acrylic
Weight category: 4 Ply (Medium)
Machine wash , gentle. Tumble dry low, gentle

I want to love every yarn I touch and for the most part that happens. I didn't like Stitch Studio the first time I used it. It didn't hold up and it has a very inexpensive feel. It should; it's an inexpensive yarn. I liked it a little better when I made the cowl pictured but while it was better, it's not a yarn I'm gonna buy again. I bought a bunch of it on sale and because I had never tried A.C. Moore before and folks were raving about the deals there.
It's softer than Red Heart Super Saver but the stitches don't hold together well and the structure seems a little week. I would teach with this yarn and I will use it to create patterns but I won't be using it for items I sell because I think it would lose stitch definition after a few washings. I haven't crocheted with it and knitting with it was easy. It was a little splitty. Like I said, it's softer than Red Heart Super Saver but it has a funny feel that doesn't make me feel confident of what I'm making.
Like the intro to the Yarn Review page says, you should love what you use. For those that use knitting as a hobby, you still create pretty things and for those where knitting is a source of income, you want to make things that will bring joy and want to take a sense of spiritual pride in the work. I wish I got that from this yarn. There are better yarns that don't carry a large price tag that will give a better sense of accomplishment. What this did confirm for me is how much the yarn contributes to the satisfaction of the craft.
It comes in 24 colors and sells for $2.99.