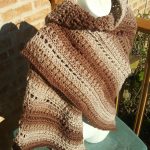 Weight: Medium (4)
Contents: 100% acrylic
Skein Weight: 10 oz. / 283 g
Yardage: 482 yd. / 440 m
Knitting Gauge:
17 sts – 23 rows = 4″ (10 cm)
Crochet Gauge:
12 sc – 15 rows = 4″ (10 cm)
Suggested Knitting Needle:
5 mm, US – 8
Suggested Crochet Hook:
5.5 mm, US – I/9
Red Heart Super Saver has gotten a bad rap for being a cheap yarn. It is, in fact, a very inexpensive yarn and the Fiber that many a first time knitter has cut their teeth on.
It was the beauty of the yarn that got me to purchase it. Make no mistake, super saver is not the softest yarn, but Red Heart has made great strides in their fiber. There's even one I use when making hats to sell. I purchased some Ombre when it was on sale and I had a coupon.
It still isn't the softest yarn and there's something grainy about the feel of this yarn but there's no denying the beauty of the yarn when it gets worked up.
The yarn has something of a halo though I'm not quite sure where it comes from. The stitch definition is really nice and it handles the post stitches and lace stitches equally well.
It's a generous ball. I used two to make the shawl and would need only 3 or 4 to make a substantial blanket or afghan. At $9.50, it's not a cheap ball of yarn, but the color changes are so well done and there's a beautiful array of color among the 18 available. I purchased mine at JoAnn and they don't carry all the colors. You may have to shop the website.
I have several balls of this in my stash and I'm thinking of making the Cold Shoulder Sweater with it. I think color changes would be quite lovely. And, like I've said, a sign of a good yarn is wanting to use it again. With colors as beautiful as these, how could you not want to try it more than once?