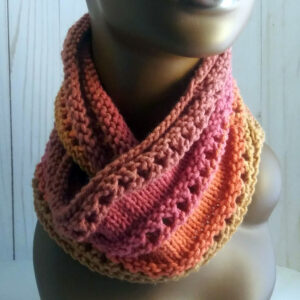 The Lace Infinity Scarf can be purchased from designbcb as a finished product or a pattern to do it yourself. (Available shortly.)
This is a pairing with my lace hat
and I have made hundreds of those and know it looks good in solids and self striping yarns. There's no reason to believe the scarf won't look as good. It would also look good in different weights from super chunky to a gossamer 1.
I made the original in Loops and Threads Impeccable (as in the hat photo) and the scarf here is done in Caron Big Cakes in Cranberry Crisp. This has the potential of being quite lush and warm as well as lacy and ethereal depending on what fiber you choose.
It is easily adaptable to whatever length or width you wish by casting on more stitches or knitting another round.
Both yarns are fun and easy to work with. They are not the roughest or the softest fibers I've used but the Impeccable has a wide variety of colors and ombres. Caron Big Cakes is shuffling around some colors so that may be a little touch and go when finding them. Hint: Check with Tuesday Morning – they sometimes have Caron Cakes of all kinds with a huge discount. $4.00 from $10.00. The Lace Infinity Scarf is a quick knit, almost mindless project and easily learned.