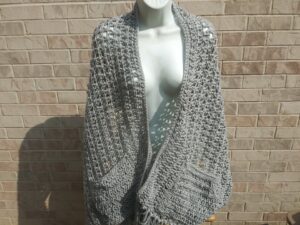 It's not often an instant classic comes into being – but the pocket shawl is one of those. It came on trend like a lightening bolt and all us designers came out with our own patterns and the gift makers and gift givers went wild in buying the pattern or the shawl itself.
My designbcb pocket shawl is a great mix of half doubles and crossed triple stitches. Doesn't take long to make. Attach the big pockets and enjoy the comfort.
I'm using Caron One Pound purchased at JoAnn and I made seven of these. Two were for the pattern and the other five for an order. Early Christmas presents are the best. What I've found interesting about using Caron, all the yarn was Caron, one was a Big Cake. The other pound skeins. Different colors behave differently. While the others used two skeins, the light gray shawl was made with one skein, including the fringe. I purchased two skeins for each shawl and I was feeling pretty frisky I wouldn't need all of them. I can't explain why I had so much left over with the first skein but it did appear a little thinner than the others.
There was no such luck on all the others. Took two skeins for each of them but there's enough of the second skein left to make a hat and gloves if I wanted.
It took about two weeks of easy crochet to make all five shawls for the order so it won't take long. It's done lengthwise so 21 rows and you're done.