Loops and Threads Big Ombre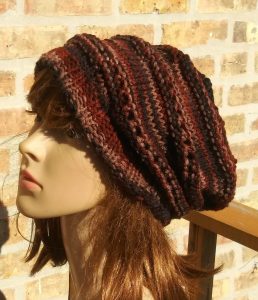 Weight: Medium (4)
Ombres
Contents: 100% acrylic
Skein Weight: 10.5 oz. / 297 g
Yardage: 557 yd. / 510 m
Knitting Gauge:
18 sts – 24 rows = 4″ (10 cm)
Suggested Knitting Needle:
5 mm, US – 8
Suggested Crochet Hook:
5 mm, US – H/8
I came across this yarn when I needed to substitute a discontinued yarn. This came closest to the color I was replacing. I've made the Lace Slouchy more than 200 times and most of the time it has been with Impeccable Big.
Big is certainly an apt name. I can get four hats from this ball, that is a great return on the investment and also means lower costs for my customers.
I have knit and crocheted with this yarn and used bamboo, nickel plated and aluminum needles. Haven't had a problem with any of them. It doesn't split. The stitches are well defined and solid. The softness and the lushness can vary from skein to skein but most of the time, it's pretty reliable. I don't think I've run into a problem with knots – which is saying something in a skein that has 500+ yards.
Loops and Threads is Michael's house brand. Most of time I order it on line because not every store stocks it and as this has been my best selling hat for the last three years, I need a lot of it. Every once in a while, they will run a BOGO and I order a half dozen at a time.
I've made a Lace scarf to match the hat using the yarn and it didn't disappoint me making a longer piece. I am able to get the infinity scarf and the hat from the same skein and still have more.
Impeccable Big comes in 12 colors. Good luck finding all of them in one place other than online. It costs $10. Now, I am a cheapskate, so I stock up on sale and always use a coupon unless I am desperate but this is worth the price. (four hats from one ball!) The question is: when this hat stops selling, will I still use it? Maybe not this color, but I would certainly give another color a shot.