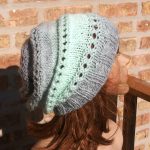 Weight: Bulky (5)
Contents: 78% acrylic, 22% wool
Skein Weight: 5.3 oz. / 150 g
Yardage: 312 yd. / 285 m
Knitting Gauge:
11 sts – 14 rows = 4″ (10 cm)
Crochet Gauge:
14 sc – 20 rows = 4″ (10 cm)
Suggested Knitting Needle:
4.5 mm, US – 9
Suggested Crochet Hook:
6.5 mm, US – K/10.5
I was in Seattle when I first came across Lion Brand Scarfie. We stopped at JoAnn because I has a 60% off coupon and needed a specific yarn for an order. I eyed and touched the Scarfie before deciding I didn't want to spend the money.
But JoAnn is nothing if not generous with their coupons so it wasn't very long before I had my first skein in hand.
It was a good buy for several reasons: it is a chunky weight so I moved away from worsted. It's also a wool blend so I moved away from 100% acrylic. The color changing is blended so it looks really good and it knits up well. I used it to make the Winter Warmer Hat by Willows Yarn. I also used it to make the Lace Slouchy hat and I really loved how it turned out. (Pictured)
Because I am so frugal, I waited until there was a really good sale to stock up. I think I have about five skeins running free range in the yarn room. I have an idea for a beanie and it would be great for it. That is going to take a while because of the way I select new items but it will be worth it when it finally happens. This yarn is a definite keeper and I look forward to using it again.
There are 21 colors available and it is a tad pricey at $10. Wait for a sale or super coupon though and add a couple skeins to the stash. It's a great return of investment. I'm even tempted to buy it full price…almost.