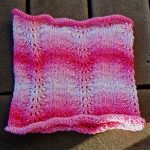 Ice Yarns Magic Glitz
I was most excited to work with this yarn from all the yarn that is in my stash. I decided to purchase it even though it is a 3 yarn and I am used to 4 or above.
This was a fun purchase and I do not regret it. It will probably be on my list to purchase the next time I do my yarn run in December. I still have plenty of it left.
As you can see from the picture, it changes colors in blocks. There is some fading from one color to the next but for the most part, it's a bold change.
The fabric is soft enough that it won't irritate the skin if you're not already sensitive to stuff like that. I wouldn't call it squishy soft because of the lurex but it certainly isn't rough.
The stitch definition isn't the best though I do like the way it's displaying the lace in the cowl and this isn't even blocked. It doesn't split but you will have to watch the lurex because it does separate from the acrylic every once in a while and can be a straggler. I will be making a hat and gloves with it but they are more for fashion and fun than function. This yarn is really thin.
You can get Magic Glitz from Ice Yarns online. It comes in 20 colors and you have to purchase it in a pack of four. But get this, the pack is just $7.99. The kicker with Ice Yarns is the postage is a killer but the yarns are so inexpensive. This came with an order that was $146. $50 was postage. The $96 got me more than 60 skeins of yarn.
Back to
Magic Glitz
95% acrylic 5% lurex
Needle size: US 6-7
Weight: 100 gram 3.53 oz
Length: 393 yards
Thickness: 3