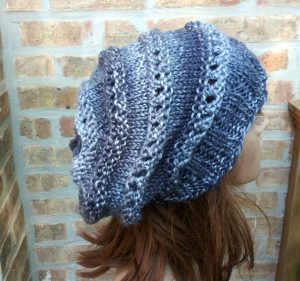 Hayfield Colour Rich Chunky
Discontinued
This is one of my favorite yarns and it is no longer made. Hayfield does have some other chunky yarns and when I make my December yarn run, I will order some to see how it compares.
I caught this on sale off of Webs (yarn.com) and I bought about 16 skeins of it in various colors. As you can see, the stitch definition is great and the color run is rich as the name says. It is also incredibly soft.
It is a dream to work with whether on wood or metal needles. There is no slipping and it doesn't get caught. I didn't have a problem with it splitting and there were no knots.
It has a really lush feel and doesn't feel cheap. The drape on it is lovely but firm. It should hold up and look good for quite some time. I've knit and crocheted with it with equal pleasure. It's a fabric that's nice to have in hand while working with it.
I have it in about 3 or 4 colors and they are all lovely. They are scattered in the free range. I have a couple of caged skeins but I couldn't walk right to where they are. It will be a pleasant surprise when I encounter them again. There are 355 yards to the ball. I had a good chunk left over from when I made this hat. It is a two project ball. That's always a good thing when you make things for a living.
Since it is discontinued, a good substitute for this yarn would be Premier Puzzle yarn. It has the same look and almost the same feel. I like the Hayfield better because their color selection is richer but I could also be biased, I found the Hayfield first. I'm loyal like that.
If you have some Hayfield Colour Rich Chunky in your stash, you will enjoy working with it. If not, send it here, I love it. I am living in hopeful anticipation that I love the Hayfield I will buy in December. Never fear, there will be a review when I use it and an unboxing when it arrives.