Marketplace Information:
Show Dates: May 11, September 28 and November 30
Please note: The September show is for Supplies Only. This is the opportunity for crafters to sell off excess inventory and for the public to get good deals on materials.
Cost: For the May and November shows, there are 21 spaces available. 6ft spaces are $40 and 4ft spaces are $35. For the September show there are 17 spaces for $40
Cancellations: Please ensure, as much as possible, that you are available the day you book. Please contact me as soon as possible if you cannot make the show so I can resell your spot. If you cancel less than a week before the show, there will be a $10 cancellation fee. Less than one week, no refund will be given.
Parking: There is street parking available. Please watch posted signs for restrictions. Loading and unloading on at the tower entrance on Oak Park Ave. Please do not use the Superior street entrance. ADA parking available on Oak Park and Superior St.
Crowd Size: We rely on sellers to help spread the word. In the past, the craft sale and pancake breakfast provided a steady flow of traffic. This is the first year we are doing the show with the luncheon. Traffic is steady but we do not have an estimate on how many people attend
Setup: The show opens at 11. Setup can begin at 10.
What to bring:
Table for 4ft spaces. We provide tables for 6ft spaces.
A mirror
Tape for display
Business Cards and freebies
Cash box or credit card reader. The church is not close to any bank or ATM. Make sure you have enough change on hand.
Also, note, first and foremost this is a church. Items displayed must be respectful of the place. If you wonder if it's acceptable; it probably isn't.
Want to sell at The Marketplace?
Everything sold must be handmade by the sellers or vintage per Etsy standards. Once approved, you may book shows. You don't have to be approved again to book the September or November show.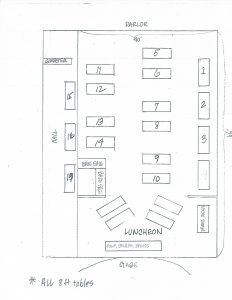 Please note for the May and September shows, spaces 5,6, 9, 10 will be converted into two 4ft spaces.
Spaces will be assigned as vendors are approved.
Apply for the Marketplace here.