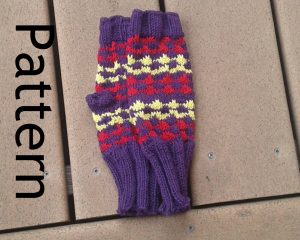 Berroco Comfort DK
$3.75
I don't often knit with 2 or 3 weight yarn, I prefer worsted. It took a while for me to add chunky yarns to my inventory and going into the thinner yarns was something I avoided. But I had a customer ask me to make the gloves shown here and they were best done in a thinner weight.
To be honest, Berroco DK was chosen because that was the one that had the colors I needed. So, I ordered up the three balls and my foray into DK weight was complete.
I ordered my skeins from Webs. Always reliable, if not the fastest shipping. They have 30 colors – hence, my being able to find what I needed. It is part nylon and part thin acrylic and you can feel it. That's not to say it isn't soft; it's soft enough; but you can feel the graininess of the nylon. I suspected it could get slippery, so i opted for bamboo double points.
For those who aren't used to knitting with thinner yarns, there is a small break in period to get used to how the yarn works up but this was a pleasant surprise. The stitches were even and lovely. It worked up fairly quickly,which was a good thing because there were going to be a lot of color changes that automatically adds time to a project.
It was a little splitty but I could live with that – being I had no choice – but even so, it wasn't annoying.
In the end,it behaved well and I, along with my 18 year old client, was pleased with the results. I had enough left over from each skein to make something else and I thought it would make a nice hat. I think wanting to use the yarn again is a sign that it's good to work with. It's not on my buy again list, but I wouldn't hesitate if I had to work with a DK yarn in the future.
Ball Weight:
1.75 oz / 50 g
Ball Length:
178 yds / 165 m
Knitting Gauge #1:
5.5 sts = 1″ on #6(US)
22 sts & 32 rows = 4″ (10cm)
Knitting Gauge #2:
6 sts = 1″ on #5(US)
24 sts & 34 rows = 4″ (10cm)
Needle Sizes:
#5(US)/3.75mm
#6(US)/4.25mm
Crochet Gauge:
5.5 scs = 1″
22 scs & 26 rows = 4″ (10cm)
Hook Size:
F-4(US)/4mm
Yarn Fiber Info:
50% Super Fine Acrylic, 50% Super Fine Nylon
Yarn Wash Info:
Machine wash, inside out on gentle cycle with warm water. No bleach. Tumble dry on low heat. Do not over dry. Do not iron. Do not bleach.