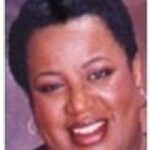 I really need to get a new photo. But, we have to use what we have on hand and this is one of the very few pictures I have that doesn't have me in a wedding dress. Soooo. About Me it's called so about me it is.
I am Beverly and I love knitting and crocheting. I learned to knit and crochet at the same time. Knitting won out; I liked it better. It would be another 30 years before I let crochet back into my life and only after I learned how to make a granny square. To be fair, it wasn't like knitting was a major part of my life, either. I knit off and on (mostly off) until after I got married. My mother-in-law was a great crafter and neither her daughter or daughter-in-law was crafty like that. I had an avenue to making her like me. Once I picked up the needles and hooks again, I would never look back. I started a knit group and my church, started an Etsy shop and finally, the blog.
My first venture into working for myself was designing business cards and the like. I loved the designing aspects and after that, I did freelance writing. Both were lucrative enough but knitting took them over. The only spiritual gift that leaves is singing. i don't know how to incorporate that into the blog or the shops.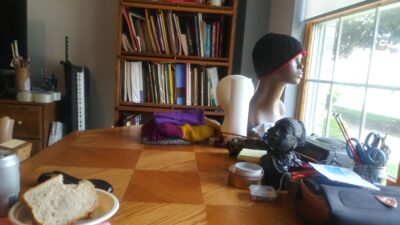 We recently moved into a new place and I took a bedroom for my studio space. Now I have room to write, knit and design – and eat lunch.
I am at that time in my life where I don't have to worry about a 9-5 or answering to someone else This is the time to center around my faith, love and passion. Knitting and crochet are part of all three and I love the idea of sharing it with the world. I can only hope some of you will listen, connect and respond.